3 session Preseason Training Camp
High Reps - High Intensity Training
Endicott College March 3rd March 10th and March 17th 2024
The Peak Goalie Training Camp for Spring Season is designed to prepare you for your seasons in every fashion. The goal is to get your game to the next level, be a part of the long tradition of Peak Goalies that bring their game to the highest level in the game of lacrosse. At this pre season we will have three training sessions. We will incorporate all facets of goalie training with high reps -high intensity to build your game for the spring season
The Peak Goalie Training Camp will be limited to 20 boys and girls goalies, ages 13-18 to insure you get quality reps and coaching for your season.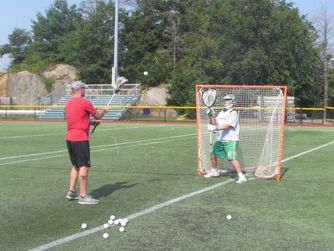 Three Session Training Camp Program Outline
Check-in
Welcome/introductions Motivation talk on leadership, character development and wellness
Throwing &clearing fundamentals
Ready position presentation
Goalies to cages for warm-ups (focus on ready position)
Step body balance presentation
Step body balance 2-man drill
Goalies to cages for step body balance work
Arc and angle presentation
Goalies to cages for arc and angle work (Use string)
Ball behind presentation
Goalies to cages for ball behind (goalies that are not in feed from behind)
Proper Conditioning Techniques
Goalies stay at cage for player's choice
Goalie Wars: Lots of realistic shots that you will see in every game setting!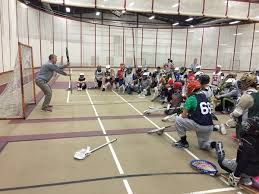 Peak Goalie Staff
Peak Goalie Training Camp Staff
The Peak Goalie Staff is comprised of:
Sean Quirk: Head Coach Cannons Lacrosse Club (PLL), 2020 MLL Coach of the Year, 2x All-American Goalie, National Goalie of the Year, National Champion
Eric Hagarty: Head Coach Endicott College, 3x All-American Goalie, CCC Player of the Year, NCAA Division III Championship Tournament
Maureen Spellman: Head Women's Coach Endicott College, CCC Coach of the Year, All New England Goalie, NCAA Division III Championship Tournament
PLL Lacrosse Goalies
NCAA Division I, II and III Coaches
Current and former college All-American Goalies
National Champion Goalies
Shooters from NCAA Division I, II and III Colleges
The Staff at Peak Goalie is here to bring your game to new Levels! Many of the staff member were former Peak Goalie participants!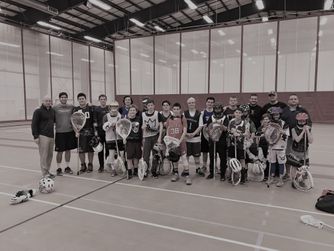 Peak Goalie Alumni
Duke
Maryland
Endicott
Princeton
Syracuse
Springfield
Umass-Amherst
Middlebury
Georgetown
Harvard
Connecticut College
Stony Brook
Bowdoin
Binghampton
Denver
Tufts
Babson
RIT
Siena
Plus many more
Peak Goalie Training Camp
You're not a goalie, you're a brick wall!
We will cover:
Learn the secrets of being a BRICK WALL in the net! The Peak Goalie was created to help goalies reach that next level of performance they desire. It's a position that many youth and high school coaches struggle with teaching because of the time, knowledge and perspective it takes to effectively train a young player. Our clinics raise a player's game and provide a sound fundamental foundation on which their high school or youth coach can build upon.
Q&A with college coaches, goalies and PLL goalies and coaches
Small groups by age and ability
Super low coach to player ration; just 3:1 max.
Youth and High School coaches may attend for free to learn how to coach your own goalies
Here is what you will learn:
10 different skill stations; small groups with top notch coaches
Straight-on shooting
Angle shots
Off hip shots
Shots on the run
Baiting shooters
Bounce shots
Defending ball-behind situations
8 Meter Shots (Girls)
Point blank shots
Communication
Directing the defense
Mental Preparation
Drills to improve your game
Body positioning
1x1's
Clearing/Wall Ball
Ball Behind
Step Body Balance
Arc and Angle Play
Sweeps
Screens on the Crease
Reaction
Stick Care
Rip O Rama
Mental Toughness
Save Biomechanics